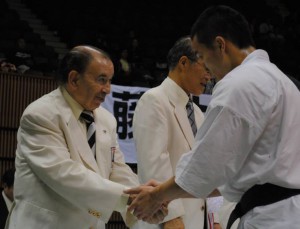 José Millán began his practice Karate Kyokushin under the teachings of Very Much Mas Oyama, in April of 1963, do not Oyama Dojo, being contemporary Hatsuo Royama. I had practiced Judo Spain, their homeland, having arrived, the college season, the fifth and, this martial art. After his return to Spain, do not summer 1966, became the first person to achieve black belt in Karate, that country. Unfortunately, due to the laws created by the Ministry of Sports Spain, the practice of karate was prohibited and he returned to Japan, where lived during 40 year old.
When the kings of Spain were Japan in 1972, Mas Oyama organized a Karate demonstration, a group of Karatecas Kyokushin, including Millán. This was held for two hours, although it was scheduled to last 10 minutes. The king liked the demonstration asked to see over and over again. No final, welcomed each participant, one by one.
Millán ever participated, to 2001, how come referee or judge, in each one of the Tournaments All Japan and Tournaments Karate Open. Was named for this honor, since the start, by itself Mas Oyama. With the death of Very Much, Millán has become a adviser Kyokushinkaikan Honbu, office he held until Hatsuo Royama have established the Kyokushin-can. Millán realized that this organization would be in line with the ideals of his great master, Mas Oyama.
The two daughters of Millán also followed in his footsteps, training, for many years, Japan, under the sublime teachings of Vice-President Kyokushshin-can, Tsuyoshi Hiroshige.
José Millán it is Professor Emeritus Kanagawa University of Yokohama, Japan, becoming, like this, the only foreign to obtain this honor. He has been a teacher this university from 1964.
In 1998, was awarded Knight Order of the Commander Merit Civil, by John Carlos I, King of Spain.