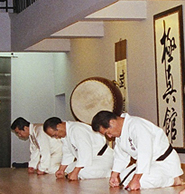 Nascimento do Kyokushin-kan
In the decade following the death of Mas Oyama, 12 million practitioners the International Karate Organization, that this had created, They divided into several smaller organizations. In 2002, Hatsuo Royama, one of the students was the Oyama Dojo, along with many friends, separated from the then largest group of Grand Master followers, o KyokushinKAIKAN, and created an organization called Kyokushin-Kan.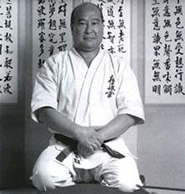 Mas Oyama : fundador do Karate.
O Sosai (Grand Master) Masutatsu Oyama was born in Korea in 1923, becoming the founder of the most famous style of Karate in Japan and the most widespread worldwide. Since the 9 years old, Mas Oyama learned Kempo in Manchuria and soon trained for several years Judo and Boxing. All this led to the practice of Okinawa Karate, which will eventually serve as a springboard for creating your own style, o Kyokushin, which means "the ultimate truth".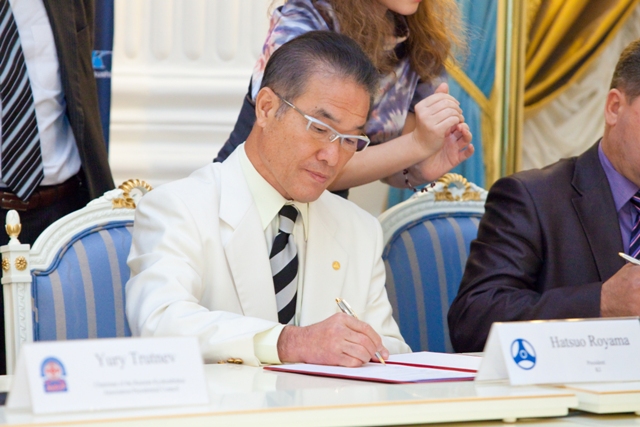 HATSUO ROYAM : Kancho (President) Kyokushin-kan Internacional.
Hatsuo Royama was born in Saitama, north of Tokyo, in 1948. Inspired by the great popularity of famous fighters, Japan, came to Ikebukuro with 15 years and joined the now legendary "Oyama Dojo" Mas Oyama, which was beginning to rise Karate Kyokushin. Royama is one of the few students of Mas Oyama, Grandmaster, closely associated, since the beginning of the organization until his death, in 1994. Were 31 years under his teachings.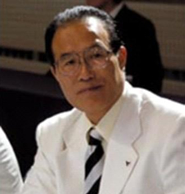 Tsuyoshi Hiroshige was born in Japan 1 November 1947. While student Bachelerato, was very good handball player. To 19 year old, began working at Honda, after passing through three other companies, until the 25 he decided that his life would be dedicated to Budo Karate, and signed up as "uchi deshi" (Internal disciple) Mas Oyama. Hiroshige began in the dojo headquarters Kyokushinkaikan, in June 1972. Three years later entered the Waka Jishi Ryo (sleeping lion pup), where he held the position of Head of Dormitory, responsible for the activities of the rest of the internal disciples. To 28 year old, began to fight in tournaments, debuting in the eighth Japan Cup. After this first competition, complemented his training with the techniques of Ikken, and the following year was ranked seventh in the ninth Japan Cup. Hiroshige continued his hard training and thus ranked fourth, Tenth in Championship, and fifth, in the Eleventh Championship. In 1979, represented Japan as a member of the team in the Second World Open Championship.
Continue to tree "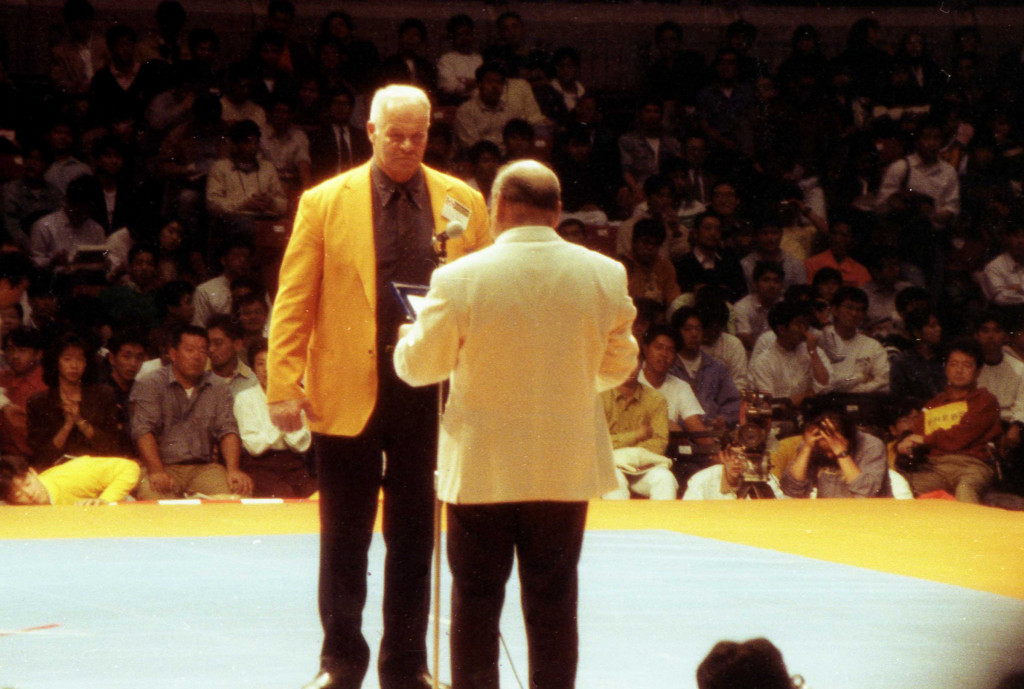 Jacques Sandulescu, "Large", had been a personal friend of Mas Oyama and his "foreign brother", since the early sixties, when they met for the first time in one of his trips to the US. Was a famous event in the manga "Karate Baka Ichidai "e, sometimes, people asked: "You fought against him?" (This is the way of the strong men become good friends). The answer is a mystery, but what we can say is that Jacques - then owner of a coffee and a jazz bar, Today author and actor - trained with Sosai six hours a day, until Dan took second .. Sosai and gave him one of his belts. Later, Sosai gave him the sixth Dan, compatible with its status as Advisor, but Jacques never used it because he continued to train with your "old" belt. Jacques helped Sosai to perform spectacular displays, presenting to the public the American force and the power of Karate. These images show how close they were lifelong. Jacques continues to train and to offer their advice to Kyokushin-Kan, while enjoying many friends karateka Kyokushin worldwide.
Continue to tree "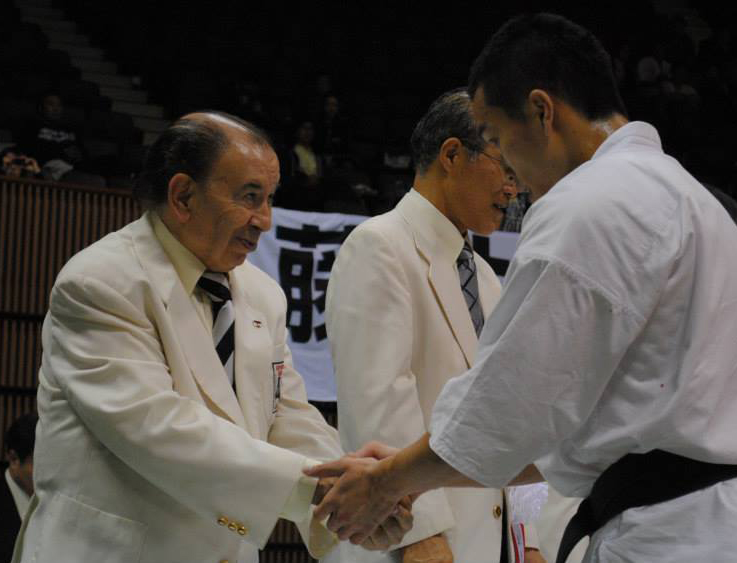 José Millán began his practice of Kyokushin Karate under the teachings of Sosai Mas Oyama, in April 1963, no Oyama Dojo, and was a contemporary of Hatsuo Royama. I had already practiced Judo in Spain, their homeland, having arrived, the college season, ao quinto and, this martial art. After his return to Spain, in summer 1966, He became the first person to win the black belt in Karate, that country. Unfortunately, due to the laws created by the Ministry of Spain Sports, the practice of karate was prohibited and he returned to Japan, where he lived for 40 year old.
Continue to tree "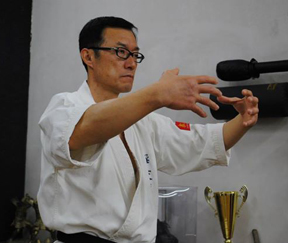 Akio Koyama was born in Tottori region, Japan, the year 1958. With 21 he began training at the Honbu Kyokushinkaikan, in Ikebukuro. Shortly after moved to Royama Dojo Saitama, becoming the first head of the dormitory of the "uchi deshi" of Kancho Royama. After learning the essence of Budo Karate Dojo in Royama, Koyama fundou a sucursal de Sanin do Kyokushinkaikan. In December 2002, He resigned from his post in Kyokushinkaikan, along with Hatsuo Royama and Tsuyoshi Hiroshige, assisting in the creation of the Kyokushin-kan.
Continue to tree "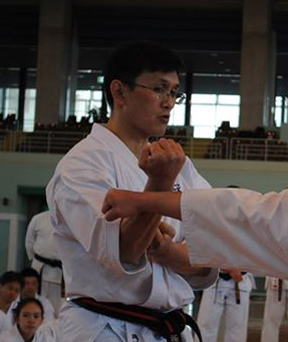 Hiroto Okazaki was born in April 1961, at the Fukushima region, Japan. He started practicing Karate Kyokushin at thirteen and, to finish his studies Bachelor, entered as "uchi deshi" in Royama Dojo. Trained under the supervision of Royama, while belonged to the branch of Saitama and, after learning the essence of Karate Royama, He founded the branch of Kyokushinkaikan, in Fukushima.
Continue to tree "